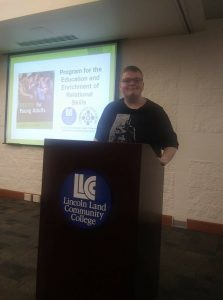 The Program for the Education and Enrichment of Social Skills (PEERS®) will be offered in the Springfield, IL area this fall. PEERS® is designed for young adults, ages 18 to 35, with autism spectrum disorders and other social challenges. It is a 16-week program that requires active participation of both the young adult and a designated social coach in their life.
PEERS® sessions will be held at Lincoln Land Community College on Tuesdays, from 6 pm – 8 pm. The first session is August 20 and they continue through December 10, except November 5. There is a fee associated with the program.
Members of The Adult Autism Group benefited greatly from this program the last time it was offered in the area. One member even shared his experience during the recent information session! While the information session has already happened, there is still time left to register for the program!
Find out more at the following link: https://www.llcc.edu/community-education/current-offerings/peers-social-skills-program/
One of the professionals offering the program is a board member of The Adult Autism Group.